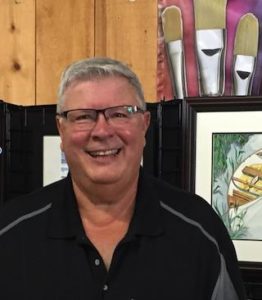 Artist Statement
I have been drawing and sketching for as long as I can remember. As a youth, I always thought that art would be the focus of my career. That didn't happen.
I entered a career as a police officer – a job that I truly loved. I served with the Windsor Police Service, and later at the Ontario Police College. I was able to blend my love of art with my career in policing by serving part-time as a Certified Police Artist. During that time, I became the Secretary of the International Police Artists' Guild, and also did a great deal of cartooning for various publications, including the Windsor Star, "The Caller" (official publication of Crime Stoppers), the Tecumseh Tribune, the Canadian Police College "Mezzanine", and many others.
After 42 years in law enforcement, I retired. I began painting with watercolour in 2017, and soon learned that my preference leaned towards mixed media (watercolour and ink). I find that painting provides me comfort and relaxation.
My work can be viewed at www.Facebook.com/billstephenswatercolours