Attention Members – if your work is going to be shown at an event, please let us know so we can promote it on this page and on our social media.  Just let us know!
Upcoming member meeting dates are shown below.  Please refer to the Members page for agenda and minutes of past meetings.  If you do not have the login for members area, please contact us.
August 9, 2021
September 13, 2021
October 18, 2021 (* one week later due to Thanksgiving)
November 22, 2021 (* Annual General Meeting – changed from Nov 8 due to show)
Call for Artists – Open to LCA Artists
Western Fair Creative Arts Competition 2021

Londoner Creative Arts Competition – Oils & Acrylics, Watercolours, Pastels, Ink & Pencil and All mixed media categories.
Competition ends September 2, 2021 at 9am.
This is a virtual online judged competition with the above four categories.  Check out the details at:
https://www.westernfairdistrict.com/creativeartscompetition
Horton Farmers' Market in partnership with the Railway City Arts Crawl to demonstrate ART IN ACTION as community building and an opportunity for artists to sell their works!
In years past (and Future!), The Market has been able to offer activities like Face Painting and other hands-on activities that aren't currently part of the reopening structure. BUT we would still like to bring some more life to the Historic Downtown Market with art!
This is an opportunity to activate space at the market while CREATING ONSITE in addition to selling your works – just like with the Arts Crawl. By creating onsite while you are selling, it draws the community into an experience they can safely enjoy at a distance.
We are able to support up to two artists a week beginning June 26 through August. The market operates from 8am-12pm and artists would be expected to follow market rules and regulations. These spots will be at no cost to you – Railway City Tourism will cover the market fee on your behalf.
Available Dates: June 26, July 10, July 17, July 24, July 31, August 7, August 14, and August 28, 2021
John B. Aird Gallery Still Life Exhibit
Still Life 2021 Call for entries:  Deadline  August 22, 2021
Online Exhibition to be held through the John B. Aird Gallery
Please visit website at https://airdgallery.org/submissions/
Juried Exhibition.
Art in the Barn 2021

This popular event in Dorchester has been cancelled for 2021.

Shows featuring LCA Artists
Art With Panache – Minature Show
July 30 – August 27 2021
Visit website at https://artwithpanachelondon.weebly.com/
140 Fullarton Street – London, Ontario
Several of the London Community Artists are entered in this show as well as many other talented London artists.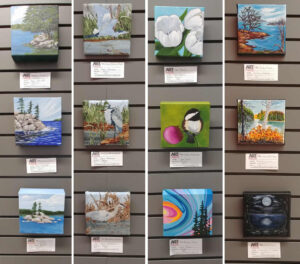 Women Painting Women show at Art with Panache, July 30 – August 27 2021

Sylvie Verwaayen, one of the London Community Artists will have three pieces at the Women painting Women show at Art with Panache.  Gallery hours are Mon-Fri 10am to 2pm.
https://artwithpanachelondon.weebly.com/upcoming-events.html
Norton West Outdoor Market at FTLA, 725 Notre Dame Dr.

FTLA is offering an outdoor market every Friday, Saturday and Sunday from 9am to 2pm all summer in front of the For The Love of Art on Notre Dame Dr.  Artists and crafters are encouraged.
More info can be found at:   https://www.ftla.ca/whats-happening/norton-west-outdoor-market/ or by emailing ftla725min@gmail.com