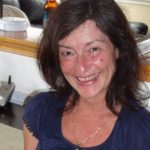 Bio:
My story starts when I was around 10 years old and I found myself always drawing something or doodling or colouring while sitting in front of the tv.
Then I started drawing cartoons then people in magazines and then I would draw the things around me, including my father sleeping in front front of the TV.
I loved art class in school and would get 100% grades in middle school. It was suggested at that time by my teachers that I go to art school, schools such as Danforth Tech in Toronto but sadly my parents said no.
At that time life took me in other directions and I didn't start painting until I was in my 50s, thanks to encouragement from a school friend from those earlier yrs who remembered my passion for art.
I love to take art classes with like minded artists who wish to learn the art of painting. Painting brings me joy and happiness and the learning is endless.